Do more, Travel less, Videoconference
Hassle free management and Integration of videoconference, meeting and A/V platforms with IT.
If you want to turn videoconference and online meeting platforms into a power tool that can move your business forward instead of a problem that costs you time and money, then we can help!
Video Conference and Online Meeting Platforms
Video Conference / Online meeting industry is going through a transition period; products are finally being morphed into a medium that has gone main stream. You no longer need room systems to have a video call; you can do it right from your laptop/desktop/smart phone or tablet. Today, the buzz words are UC (unified Communication), Zoom and WebEX, where a cloud based account can reach you all the time, be it voice, video or data. We don't mean to insinuate that the room systems are dead; they will still rule collaborative sessions and Strategic meetings where teams get together in different geo locations to work with each other. In our opinion, room system experience is superior then those you get from your online meeting platforms, but, because of the ease of use and the always available nature of meeting platforms the explosion in cloud based video communication will continue to expand. Cloud based online meeting solutions give a clear indication where the video party is heading.  Prices have already come down on cloud based services and adaption is up.
We deal with video technologies everyday so you don't have to, call us for a consultation.

Cloud based Unified Collaboration / Online Video meeting Platforms
ATC offers a virtualized scalable meeting platform enabling users to seamlessly collaborate across any video, audio or web conferencing platform or device.
Global value chains, mobile workforces, social networking, pervasive video, and information overload: this is the new normal. To address these business complexities, Cloud based products connect people, information, and teams, helping to enable comprehensive and effective collaboration. With ATC deployed collaboration systems, your organization can:
Connect co-workers, partners, vendors, and customers with the information and expertise they need
Access and share video on the desktop, on the road, and on-demand, as easily as making a phone call
Facilitate better interactions, dynamically bringing together individuals, virtual workgroups, and teams
Extend the corporate network so mobile workers can be productive anywhere
Innovate across the value chain by integrating collaboration and communications into applications and business processes
Collaborate with Confidence
ATC designed and Managed Unified Communications solution delivers a high-quality, highly secure experience across any workspace, which can help your organization:
Shorten sales and customer service cycles
Reduce time-to-market
Adapt more quickly to market changes
Encourage innovation
Video Conference
We specialize in custom video conferencing site set ups. You Want to convert one of your office rooms into a HD video conferencing room? Please call us or email [email protected]. We also offer equipment rental for occasional use. The techs are available to set up for your special video conferencing event. This service is available 24/7.
HD Mobile Video conferencing / Streaming Service
ATC offers HD Mobile video conferencing, Network and Web streaming service. System engineers are available to set up, run this service for your video communication events.
Sales and Service
ATC is vendor independent, we believe in providing the best solution or our customers. We work with multiple vendors to secure the best equipment at a very competitive price. All recommendations are made according to client's specific requirements.
Equipment Sales
Quality equipment available for sale from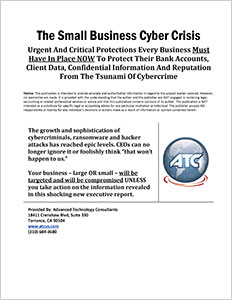 The Small Business Cyber Crisis
Urgent And Critical Protections Every Business Must Have In Place NOW To Protect Their Bank Accounts, Client Data, Confidential Information And Reputation From The Tsunami Of Cybercrime.
Complete The Form Below To Claim Your FREE Urgent and Critical Protections Every Business Must Have In Place NOW!
Important! We hate spam as much (or more!) than you and promise to NEVER rent, share, or abuse your e-mail address and contact information in any way.