End-to-End Multi-Cloud Migrations offered 'as a Service'
MIGRATE FROM ON-PREM TO CLOUD OR ACROSS CLOUDS

MaaS " Migration as a Service" lets you migrate your infrastructure or individual components to and across clouds in a flexible way. ATC brings years of experience in designing, deploying, and managing workloads on clouds. We take a holistic approach combining our product  along with our expertise and support in helping enterprises migrate to and across clouds as well as manage, visualize, and protect the multi-cloud infrastructure. We have designed our offerings with a flexible as a service approach along with optional support to ensure success along the various stages of your cloud journey.
Pay As You Migrate
All-inclusive per unit price (e.g. a server, a storage volume, a DB, a network function, etc.). More than 50% savings compared to traditional migrations.
Super Fast Migration
Perform multiple migrations at a time. Migrate VMs from VMware environment to cloud-native VMs, move MySQL or Oracle SQL DB, move files & content from old servers, and much more.
Templatize Cloud Infrastructure
Discover and save your VPCs as templates. Deploy these templates in different regions or clouds within seconds
Powerful Visualization
Visualize your multi-cloud VPCs. Track and manage your security groups policies, ACLs, LB and Transit Gateways with our powerful visualization.
Single Pane of Glass
Add multiple cloud accounts. Migrate & manage your multi-cloud VPCs from a single pane of glass
Seamless Automation
Migrate servers, databases, network functions & security policies in a fully automated manner by leveraging our pre-built integrations with clouds and "migrators" moving different items
Resource Coverage
Automate discovery and migration of your network appliances, VMs, storage, and databases.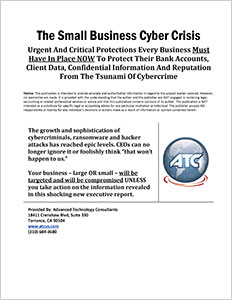 The Small Business Cyber Crisis
Urgent And Critical Protections Every Business Must Have In Place NOW To Protect Their Bank Accounts, Client Data, Confidential Information And Reputation From The Tsunami Of Cybercrime.
Complete The Form Below To Claim Your FREE Urgent and Critical Protections Every Business Must Have In Place NOW!
Important! We hate spam as much (or more!) than you and promise to NEVER rent, share, or abuse your e-mail address and contact information in any way.