Our Clients
See what other business owners are saying about ATC
"If there is a problem, it will be fixed right away"
The single biggest benefit we have working with ATC is knowing that if there is a problem, it will be fixed right away.  Network engineers at ATC are very professional and always available to answer any questions I have or fix any problem we have.
 I don't know anything about technology but Kamran and his team always take the time to explain everything to me and answer any questions or concerns I have no matter how stupid they are without making me feel dumb,   call them.
Immediate, Vigorous And Unstinting Service
I've engaged the service of ATC's founder and active president from the start. He is degreed in computer science, deeply knowledgeable in the technologies of the internet and videoconferencing, and among pioneers in storage technology. ATC's success reflects all that plus its continuing dedication to providing immediate, vigorous and unstinting service in overcoming emergencies and helping clients implement their expansion. Give them a call.
Conscientious And Responsible
This is a conscientious and responsible employer. I've worked with them for years, and Kamran is always easy to work with.
Professional Care
I sincerely appreciate the help we get from you and ATC. Your prompt and professional care of our network enables us to focus on what matters to us, our clients!
ATC Makes Technology Simple And It Works
ATC came to our rescue with a solid and robust wireless solution for our office and warehouse. Our employees work without being slowed down. The WiFi does not drop, period. You may not understand how important this is for our company. We have coverage across the office, the whole warehouse and our productivity is high.
Communication is great – ATC explains it in a simple manner. They know their stuff and are reliable.
If your company is struggling with this type of situation, reach out right away to ATC.
Price Is Important, But That's Not All
The biggest benefit to using Kamran and the team is knowing I am in good hands with ATC's professional engineers and technicians who can get the job done. I have hired them for critical jobs, and I know I do not have to worry about the portion that Kamran and ATC manage.
Compared to other IT companies, ATC has the most experience in the IT field and always keeps up on the current equipment and processing. Their quality is absolutely the best!
In choosing an IT firm, you never want to cut back on quality service just to get a lower price when your event or IT needs are on the line.
Price is important, but so is the depth of technical knowledge and the quality of the result!
Trusted and Reliable Partner in Our Success
ATC is professional, reliable and efficient. They have taken a personal interest in our business and will work around our needs rather than trying to fit us into their schedule.
Their support is customized to our unique business needs. With our hotels and restaurants, it is often necessary to have IT projects done overnight, ATC has been willing to make that happen, often on very short notice.
ATC is an extremely reliable business partner, they respond quickly to all of our requests and do not close the call until we have approved the work.
Dependable and Efficient Experts
We have used ATC for over 14 years. ATC takes pride in what they do, the technicians are always friendly and helpful. They provide a very dependable network, resolve all issues quickly and are always available to answer questions.
Exceeding Expectations 
First off I want to thank you for finding Kelly for us. He has exceeded my expectations and has been a huge asset to the team in a short amount of time already so I'm feeling very good about this.
Part Of Our Family
Our relationship with ATC is very personal and specific. They care about our needs, as if they are personally invested in our company. I see them as an extension of our staff, not as a hired support service. I have confidence that no matter how big ATC grows, we will always be treated in this very personal nature. They get my full endorsement, call them.
Phenomenal Team Attitude
Great job in such a short time. I appreciate your great team attitude in completing this large amount of work. I want to reiterate, great job!!
Professional, Courteous And Knowledgeable
Kamran and his team amaze me regularly. They are professional and an expert on deploying a successful deployment. They make it happen even if it's short notice on our part.
They are courteous each and every time. Kamran's expertise and confidence give me peace of mind. A close friend referred me to Kamran and I am forever grateful.
Anyone who has similar needs to ours or frustration with their current IT guy, you need to call Kamran. The ACT team will not let you down.
Building Partnerships With Vendors That Understand Our Business Model Is Key For Us
The single biggest benefit ATC provides is a trust worthy partnership.
ATC has been a one stop shop for us. We are rest assured that any questions, logistical issues or concerns are addressed and flawlessly executed. ATC insures that aspects of the project are handled to our standards allowing us to focus on bigger picture.
Building partnerships with vendors that understand our business model is key for us. Although ATC is a vendor, they are as much invested in our projects as much as we are. They understand that their name and reputation is on the line just as much as ours. Establishing these types of partnerships give us peace of mind.
Understands Our Business, Does Their Homework And Delivers With Excellence
ATC is our global services partner for more than 10 years. They consistently provide high quality networking services and resources. This successful partnership is based on the ability of ATC to understand our technical and business requirements well and use their expertise to deliver both with excellence.
They do their homework by investing time to understand the requirement before they provide the solution. This gives us time to focus on our strategic goals.
The ATC staff is highly qualified, and go an extra mile to align with our goals. Give them a call.
Technology Experts That Enable Us To Focus On Our Core Business
We hired ATC because we needed a managed services vendor that could hit the ground running in helping us set up a base infrastructure for our organization. From engagement, Kamran and his team were very professional and tactical in their assessment, recommendations, and solution implementation.
ATC was price conscious in recommending services and products that were aligned with our needs and budget. In short order, ATC is helping us create a sustainable technology setup detailing everything from IT policies and procedures, documentation, security, and support. Every interaction I've had with Kamran's team has been top-notch. Notably, Ron and Cory have stewarded a proactive, positive, and open relationship with us, and I look forward to continued engagement with ATC. They have brought nothing short of their best to the table and are a valued partner to our work."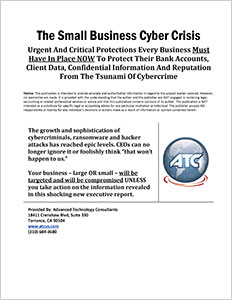 The Small Business Cyber Crisis
Urgent And Critical Protections Every Business Must Have In Place NOW To Protect Their Bank Accounts, Client Data, Confidential Information And Reputation From The Tsunami Of Cybercrime
Important! We hate spam as much (or more!) than you and promise to NEVER rent, share, or abuse your e-mail address and contact information in any way.