Managed IT Services for Los Angeles Businesses

Why Managed IT Services?
When technology fails, disaster strikes. The good news? You don't have to wait to address these issues and deal with the aftermath. Our proactive approach to IT will guarantee that your network runs smoothly.
You'll reduce your IT services cost overall and gain access to a team of trained engineers to ensure your business is protected. We operate how your own internal IT department would operate, without the headaches that come with managing that team yourself.
ATC actively maintains and monitors your network and devices. Maintaining and monitoring your network is our responsibility and all labor is covered. Everything from setting up devices for new employees to preparing your technology for a move is included. We'll make sure your network and devices are set up properly and help you adapt to changes in your business.
When you sign up with our managed services, here are some of the substantial benefits:
Tailored Packages


We know that every businesses' needs are completely different from the next, so we offer 100% custom packages for any business size or budget.

Predictable costs 24/7
Advanced Technology Consultants doesn't charge you more when your network is down or a server fails. Our flat-rate fee covers all of that whenever you need it done.
Ramped up productivity
Never stress again about network failures, as our managed services include round-the-clock monitoring of your computers and network to help prevent problems before they happen.
We are always available
Part of what makes our managed services so exceptional is that we are always available, regardless of time or holiday.
You can rest easy when you put your IT support needs in our hands. Contact us today for more information.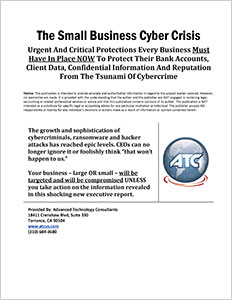 The Small Business Cyber Crisis
Urgent And Critical Protections Every Business Must Have In Place NOW To Protect Their Bank Accounts, Client Data, Confidential Information And Reputation From The Tsunami Of Cybercrime.
Complete The Form Below To Claim Your FREE Urgent and Critical Protections Every Business Must Have In Place NOW!
Important! We hate spam as much (or more!) than you and promise to NEVER rent, share, or abuse your e-mail address and contact information in any way.