If you're an Office 365 user, you'll be pleased to know that that Word for the web now has two cool new features: Transcribe and support for voice commands.
Currently, the transcription capabilities are somewhat limited, but are still robust enough to be genuinely useful. At present, it only supports transcribing audio into US English.
In order to make use of that feature, you need to be using Microsoft Edge, Chrome, or some other Chrome-based browser. The best part about the new feature is that the actual transcription takes place on the web, so there's no need to download and install a third-party app to handle audio files.
In addition to that, the new transcription feature automatically detects different speakers in recorded conversations and transcribes them accordingly, which makes it easier to follow the flow of conversation in a transcript generated in Word.
Dan Parish, the company's Manager of Natural User Interface and Incubation, had this to say about the new feature:
"Your transcript will appear alongside the Word document, along with the recording, which enables you to leverage your transcript to create great content in the way that works best for you."
Although these may change at any time, currently, Microsoft has placed the following parameters on use of the new feature:
Users are limited to five hours of transcription time per month
Uploaded audio files must be in one of the following formats:
Uploaded files may not exceed 200 mb in size.
Even given these restrictions, this is an awesome new addition.
The second enhancement to talk about here are the voice commands.
Dan Parish had a few words to say on that topic as well:
"We've been adding voice commands to Dictate so that you can break away from the keyboard. Whether on the desktop or mobile (or transitioning between devices), you can stay in the flow and focus on your message by using dictation with voice commands to add, format, edit, and organize your text."
Microsoft has a full list of Dictate commands the software will accept, and the system even understands a variety of symbols, which is super convenient.
Kudos to Microsoft for the amazing addition. It's absolutely fantastic and will make your life easier.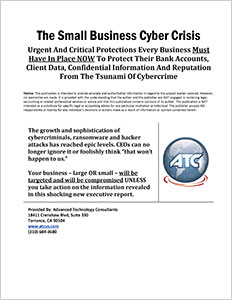 The Small Business Cyber Crisis
Urgent And Critical Protections Every Business Must Have In Place NOW To Protect Their Bank Accounts, Client Data, Confidential Information And Reputation From The Tsunami Of Cybercrime
Important! We hate spam as much (or more!) than you and promise to NEVER rent, share, or abuse your e-mail address and contact information in any way.