Are you working from home right now? If so, you've got plenty of company.
Since the pandemic began, tens of millions of American workers have started doing exactly that, but there's a problem.
While working from home has its upsides, it also tends to be a bit noisier, especially if you have children, neighbors, or pets.
Much of the time, it's possible to work around children and/or pets, especially if you can schedule virtual meetings when your little one is napping or lock the family dog out of your home office for a little while. Or, you could be in a very important virtual meeting and your neighbor could be running a loud snow blower outside, right beside your office window. Unfortunately, it's not always possible to do avoid noise, which is why companies that make teleconferencing and messaging software have been working hard to come up with software-based solutions.
Microsoft hasn't been a slouch in this department. Recently, they've added powerful new capabilities to their Teams application which rely on artificial intelligence to help filter out those unwanted, often unexpected background noises.
It's an idea that's been in the works for quite some time. In fact, the company first announced they were working on it back in March of this year (2020) when they introduced an early version of the technology that proved to be capable of canceling the nose of opening a bag of potato chips. In that test, the sound made by opening the bag was completely suppressed, while the test subject's voice remained clearly audible, which is impressive indeed.
Although the new noise canceling feature didn't make it into the software in time to help with Thanksgiving chaos, you can test it out now, and just in time for Christmas, too!
To begin experimenting with it, if you're using the desktop app, go into the Settings menu by clicking on the user icon in the upper right portion of your screen. Select "Devices" and then turn on the "Noise Suppression" option.
Note, however, that if you're a Mac user, you'll have to wait a bit to gain access to the noise suppression technology. Right now, it's only available for Windows 10 users. If you're one of those, be sure to check it out at your next opportunity.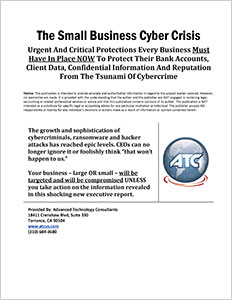 The Small Business Cyber Crisis
Urgent And Critical Protections Every Business Must Have In Place NOW To Protect Their Bank Accounts, Client Data, Confidential Information And Reputation From The Tsunami Of Cybercrime
Important! We hate spam as much (or more!) than you and promise to NEVER rent, share, or abuse your e-mail address and contact information in any way.