100+ Employees & Enterprise
Vital Care Advantage: Highly-Responsive and Scalable Computer IT Support for Growing Businesses
The world today is becoming more connected. Business systems are no exception 
The enterprise technology landscape is often comprised of a variety of systems with different APIs that serve various business needs. ERPs, CRMs, business partner backend systems, meters, smart-grid connected devices, and other systems require a smart integration platform to ensure that your organization gets the data it needs. ATC develops world-class enterprise integration frameworks for healthcare companies, energy and utility companies, and logistics companies.
ATC has been successfully designing and deploying data centers, wireless and wired networks and in cloud services for fortune 100 companies for over a decade. ATC offers a range of services to meet your business's needs. As trusted advisors, we cater to each customer's specific requirements, offering everything from PDI (Plan Develop Implement) services to short-term troubleshooting and long-term service contracts. Our expert staff is well trained and qualified to provide the best business solutions. We deliver the services required to set up the advanced technologies which are now so key in today's business operations and ensure that they run securely and reliably.
We gauge each customer's needs carefully to come up with a solution that is specifically tailored for them. Only once we've prepared a plan based on customer requirements, we move on to kick off a high level design, then low-level design, ensuring at every point that our customer is completely satisfied. We offer implementation and test plans, completely readying the data center for use.
Our data center evaluation service reviews your current infrastructure and recommends improvements based on the industry's most current and best practices. Please call us for your data center needs.
To maximize your IT investments and remain competitive you need strategic guidance along with the peace of mind that comes from working with a trusted technology partner. With Vital Care you can either supplement your existing IT services staff, or we can become your complete outsourced IT solution. If your organization needs outsourced help desk services, we can deliver a seamless experience for both your internal staff — and for your customers.
Vital Care Premier Managed Services Plan for 150+ users includes:
Expert IT strategy & consulting by a certified team of IT consultants.
Fixed-price technical projects like server virtualization and email migration.
Options for short or long-term staff augmentation for special projects.
Unlimited 24×7 remote help desk support with fast issue resolution.
Options for private-labelled remote help desk support services.
24×7 monitoring and management of you computers, servers, and network.
Asset inventory reports.
Comprehensive disaster recovery, business continuity, and backup service which ensures that not only is your data being backed up both onsite and at offsite data centers but that the data recovery time is quick and your employees can continue to access the server and applications in case of a server down situation.
Options for cybersecurity services like managed firewall, content filtering and threat protection, network traffic monitoring, etc.
Options for mobile device management.
Options for on-site support.
What are my computer IT support options?
The beauty of working with ATC is that we can offer a Vital Care plan to either supplement your current IT staff or become your fully outsourced IT support partner. After you sign up for a support plan, you can easily change your plan as your business needs changes. We will help you build and customize a plan that is the perfect fit for your growing business.
Contact us today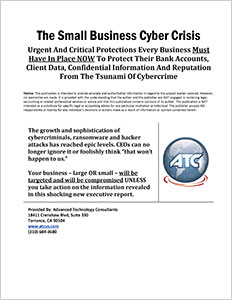 The Small Business Cyber Crisis
Urgent And Critical Protections Every Business Must Have In Place NOW To Protect Their Bank Accounts, Client Data, Confidential Information And Reputation From The Tsunami Of Cybercrime
Important! We hate spam as much (or more!) than you and promise to NEVER rent, share, or abuse your e-mail address and contact information in any way.