50-100 Employees
For Businesses with 61-150 Employees
Vital Care Advantage: Highly-Responsive and Scalable Computer IT Support for Growing Businesses
As your company grows, you realize that computer problems effecting employee productivity can be both frustrating and expensive. You understand that for your business to be competitive, you need to focus on serving your clients – not managing IT. Building your own IT department is always an option but the level of expertise and tools required to do so may be a distraction as well as cost prohibitive.
You need a computer IT partner to help you align your business objectives with the right technology, provide a dependable network that is secure and compliant and you want all of this at a predictable cost that can you can budget. You need a computer IT company that will provide you with dependable infrastructure support, respond quickly to issues, and give you strategic guidance.
Vital Care Advantage Managed IT Services Plan for 65-134 employees includes:
Expert IT strategy & consulting by a dedicated IT consultant.
Fully managed IT infrastructure support services at a fixed monthly fee.
Unlimited 24×7 remote help desk and onsite support.
Options for customizable cloud solutions.
Comprehensive disaster recovery, business continuity, and backup service which ensures that not only is your data being backed up both onsite and at offsite data centers but that the data recovery time is quick and your employees can continue to access the server and applications in case of a server down situation.
Comprehensive cybersecurity services to protect your computers, servers, and network.
Fixed-price technical projects like Vital Assessments, Cloud Assessments, Email migration, Server Upgrades, etc.
24×7 "when you need" us access to our technical team.
A responsive & dedicated technical and account management team.
Unlimited coordination on your behalf with all of your technology vendors including copiers, phones, etc.
If you are in need of an outsourced IT support service that is comprehensive, simple to understand, at a price that is affordable — and scales with the growth of your business then a Vital Care Advantage Managed Services plan could be a great option. It supports your business with strategic IT consulting and management services that can either supplement your existing IT services staff, or become your complete outsourced IT solution. IT budgeting and planning is easy with no hidden costs or fees! Estimate the number of users and devices to be covered under your support plan, then contact us. We will help you build and customize a plan that is the perfect fit for your growing business.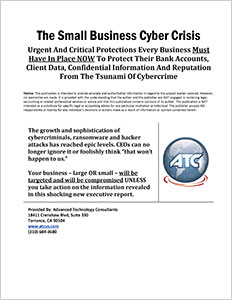 The Small Business Cyber Crisis
Urgent And Critical Protections Every Business Must Have In Place NOW To Protect Their Bank Accounts, Client Data, Confidential Information And Reputation From The Tsunami Of Cybercrime
Important! We hate spam as much (or more!) than you and promise to NEVER rent, share, or abuse your e-mail address and contact information in any way.